Mountain biking in Montenegro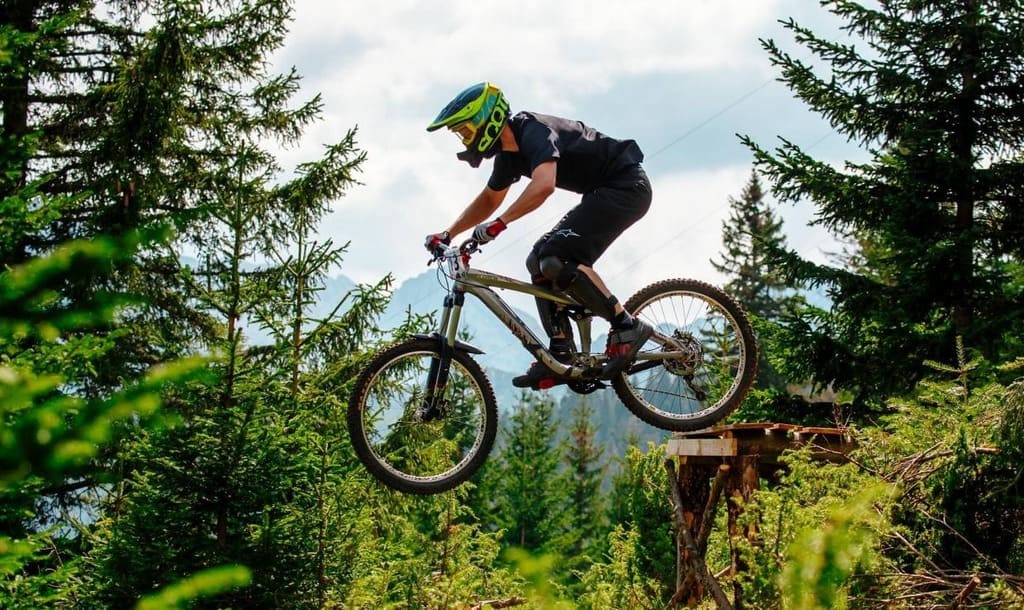 Mountain biking is an active entertainment that is gaining more and more popularity in Montenegro.
Here, like in no other country in Europe, the natural landscape is conducive to extreme cycling. The majestic mountain scenery is breathtaking in its scale, winning the hearts of lovers of active leisure. We offer you the to escape from a measured beach holiday and sign up for an exciting bike ride.

Features mountain bike rides
Mountain bike differs from ordinary cycling in a serious approach to the selection of equipment and, of course, the choice of location. As a means of transportation, they choose a bicycle with a reinforced structure that can easily overcome obstacles, because the mountain trails do not differ in a flat surface and are often covered with boulders and vegetation.
In addition to remarkable physical activity, during walks, you will get real aesthetic pleasure from admiring the beauty of the pristine forests, mountain rivers, and lakes. During the walk, you can take a number of stunning pictures in memory of such an exciting adventure.

Popular mountain bike trails
Perhaps the most picturesque and exciting journey awaits you in the Durmitor National Park, in particular, at the Zabljak ski resort, which in the summer turns into a place for various outdoor activities, including mountain biking. Novice cyclists should pay attention to the path to the eco-village Milogora passing at an altitude of 1450 meters above sea level in the Tara Valley. From here you can go back the same way, or rise even higher if the preparation of the group members allows.
Diverse in landscape and complexity is the route around Boko-Kotor Bay. The track encircling the bay is mostly flat and even an unprepared beginner will master it. However, there are difficult areas, for example, a hilly plot between the cities of Risan and Strp.
You can take part in organized group trips in large resort cities, in particular, in the area of ​​Budva and Petrovac where a wonderful view of the sea expanses, mountain landscapes, and original urban architecture opens.

Participation in group trips
The best option for trips to the mountains - is as part of a group, the set of which is carried out in advance. On the appointed day and time the group gathers at the foot of the mountain and gets acquainted with a guide who accompanies tourists. Depending on the nuances of the organization, meals may be included in the program. Some organizers offer two-day tours - in this case, an overnight stay in the mountains in a camp is provided.
We recommend that you sign up for a mountain bike ride in advance and provide yourself with active healthy leisure in the open air and positive emotions. Mountain biking will be a pleasant addition to a traditional beach holiday. Be sure that such an invigorating trip will leave the best memories of a vacation in Montenegro.
Price: 35€
Mountain biking quick booking