Kayaking in Montenegro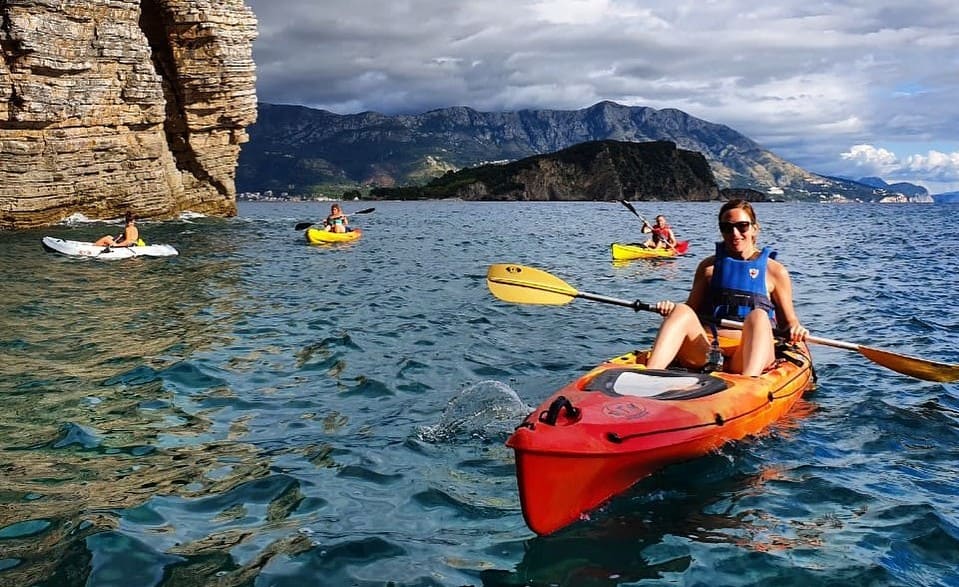 Kayaking has become a popular sporting activity, it involves moving on a special closed boat, using a paddle with two blades.
The activity is suitable for any type of water: stormy, calm, smooth. Connoisseurs say that kayaking is a door to another world because with its help you can conquer a variety of waters at any time, improving and getting a lot of pleasant emotions.
Kayaking is an option for outdoor activities in Montenegro
At the moment, this direction is actively developing, and minimal skill is enough to master the boat. At the same time, extreme sports, unity with the nature of Montenegro, physical relaxation, and adrenaline are provided, all these features ensure the attractiveness of the presented entertainment. The nature of the country seems to be created for the direction of the presented sport, here they swim in kayaks and kayaks in almost any weather conditions.
In Montenegro, connoisseurs of kayaks are waiting for the following:
rivers with waterfalls;
reservoirs with a rapid mountain current;
a huge number of lakes;
beautiful sea coast with convenient bays suitable for rowing and active movement on the water.

The best places and routes for kayaking in Montenegro: Budva, Petrovac, Crnojevica river, Skadar lake
On the territory of Montenegro, there are many places that are worth visiting and suitable for swimming, we suggest that you familiarize yourself with the most popular ones:
Skadar lake
It is famous for its beauty and size, with about 370 km² of water waiting for you. Around will be birds, high mountains, rare fishing boats, carpets of water lilies, the remains of fortresses of the medieval period, and monasteries;
Crnojevica river
It flows into Lake Skadar, so swims often cover the reservoir. The area around is secluded, surrounded by green spaces, and there are rocky shores. The river is quite winding, there are bottlenecks, but there are not so many of them. Most often people come here in late spring and summer, in search of solitude;
Budva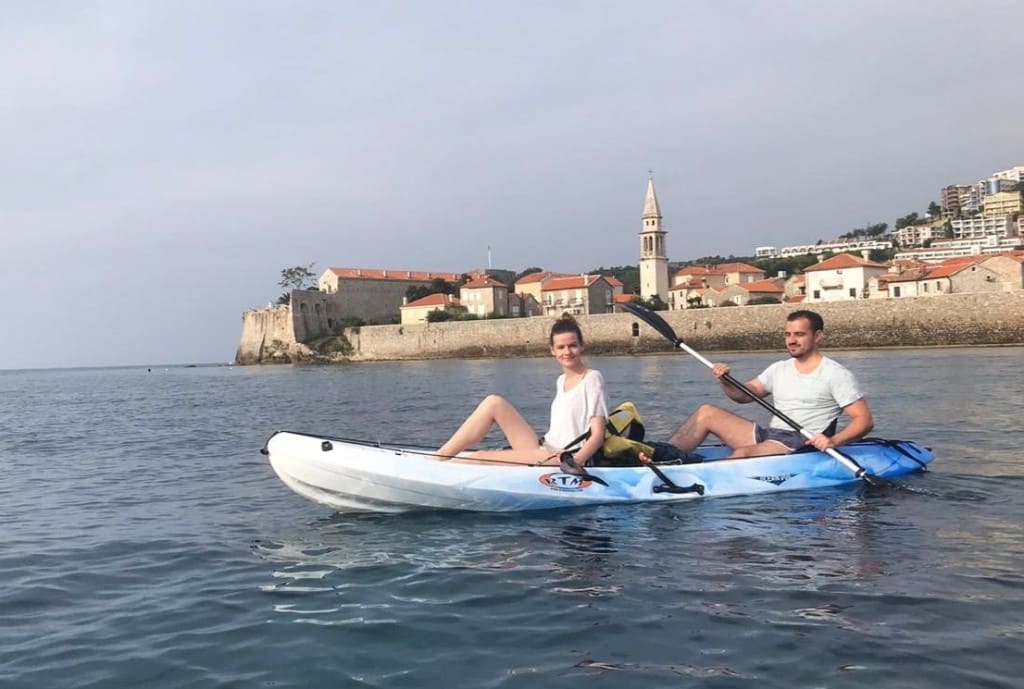 Excursions are varied and interesting, including admiring the beauty of beaches with water of different shades of blue and green, rocks, the old town itself, grottoes, and the coastline. There are many sections with clear water, and the routes are easy and adapted for children from 3 years old and adults up to 75 years old;
Petrovac
Conducting sightseeing tours is aimed at the development of the line near the sea, and the study of beautiful areas. Vacationers admire the sea surface, and bays, including the islands of Katic and Holy Week, if you wish, you can snorkel there.
Conditions for implementation, who suits
This sport is classified as extreme, therefore, preliminary insurance may be recommended. Kayaking is suitable for all those who are looking for vivid impressions, as well as striving for movement.
Routes are selected individually for everyone, taking into account experience, endurance, age, and preferences. For the boat trip, it is recommended to use sunscreen and bring a T-shirt, brimmed hat, sunglasses, drinking water, and aqua shoes. Accompaniment by an English-speaking guide is provided.
The number of participants, travel time, and other conditions depends on the chosen program. Weather conditions are taken into account, and sometimes tours are postponed. At the start, you can request masks and snorkels, and clarify the details of the shooting.
Kayaking in Montenegro will be a great opportunity to spend time actively, see a lot of new things, enjoy the beauty of nature, gain new skills and get bright, positive emotions from an unforgettable vacation.
---
Price: 25€
Kayaking quick booking