Embrace the thrill of eco-paragliding in Petrovac, Montenegro, and experience the breathtaking beauty of the Adriatic coast from above.

Exhilarating Paragliding in Petrovac
In the realm of outdoor activities, paragliding stands out as a premier attraction in Montenegro, offering an unmatched blend of excitement and scenic beauty.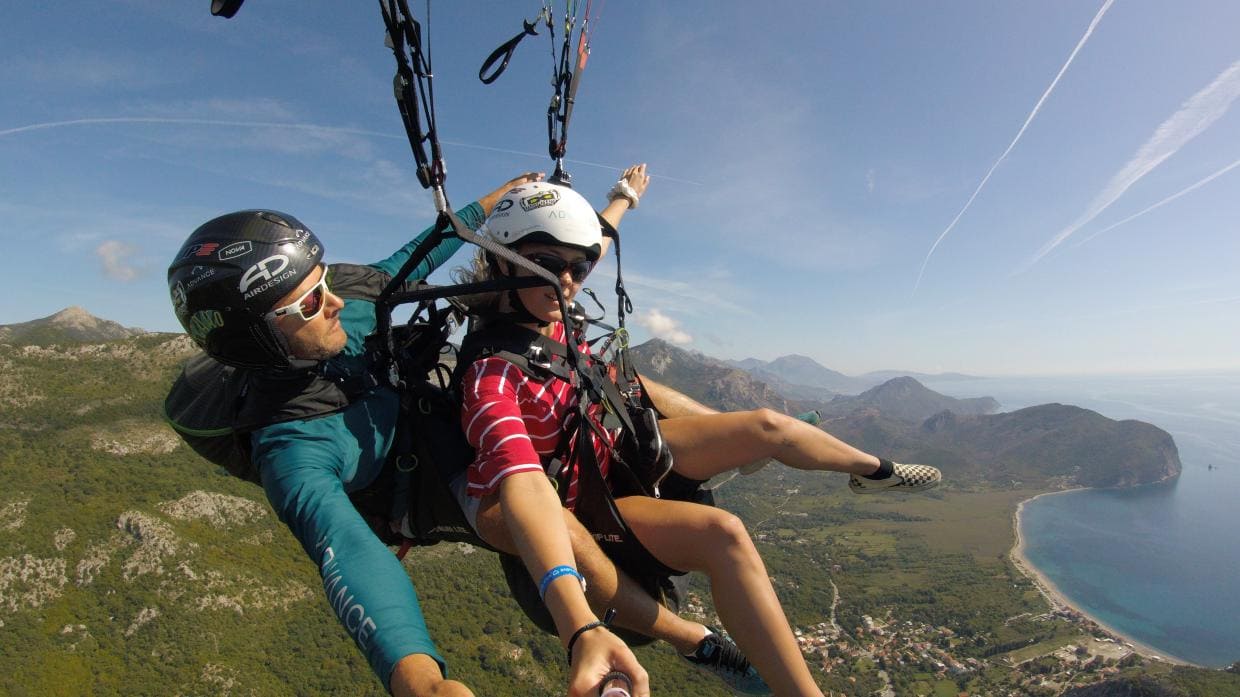 Tandem Paragliding: A Beginner-Friendly Adventure
Tandem flights with experienced instructors in ultralight, non-powered gliders provide a fantastic opportunity to soak in Petrovac's picturesque landscapes. This exhilarating activity is surprisingly accessible, even for beginners. The key is partnering with a skilled instructor who prioritizes your safety throughout the flight.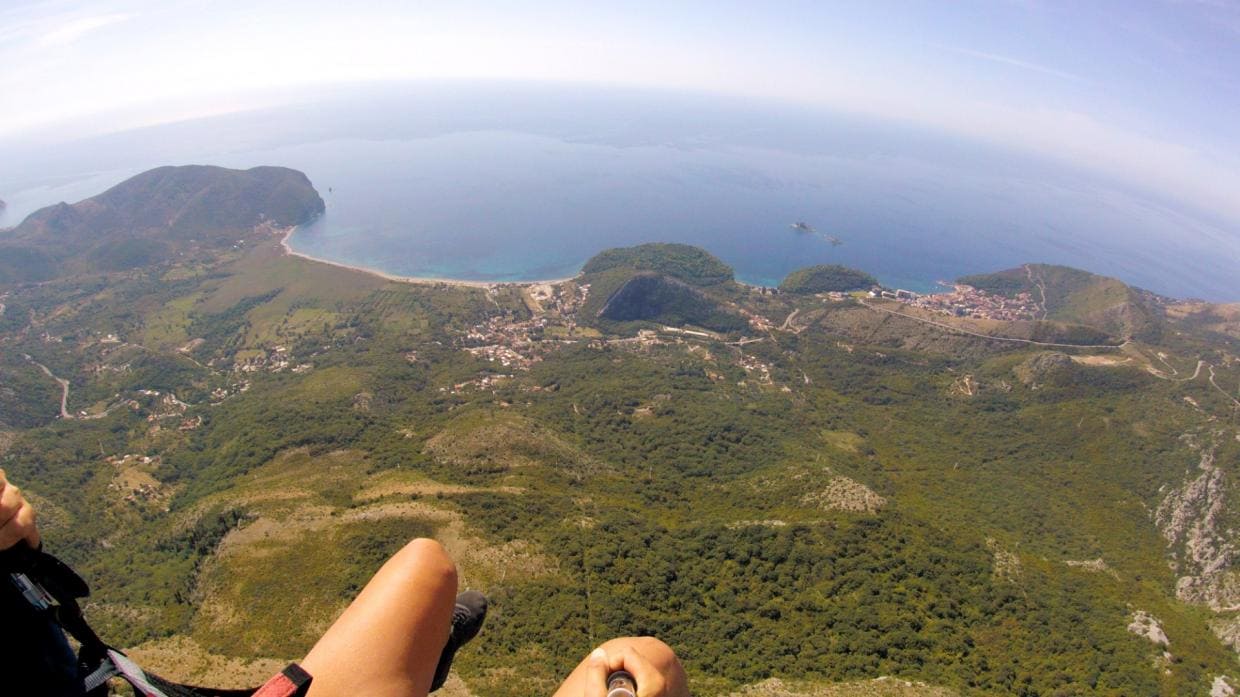 Experience Eco-Paragliding in Petrovac
Join us for an unforgettable eco-paragliding experience in Petrovac, and let our instructors guide you to a world of incredible emotions. Witness the aerial splendor of the Budva Riviera, just a short distance from Petrovac, renowned for its extensive Adriatic coastline and captivating natural beauty.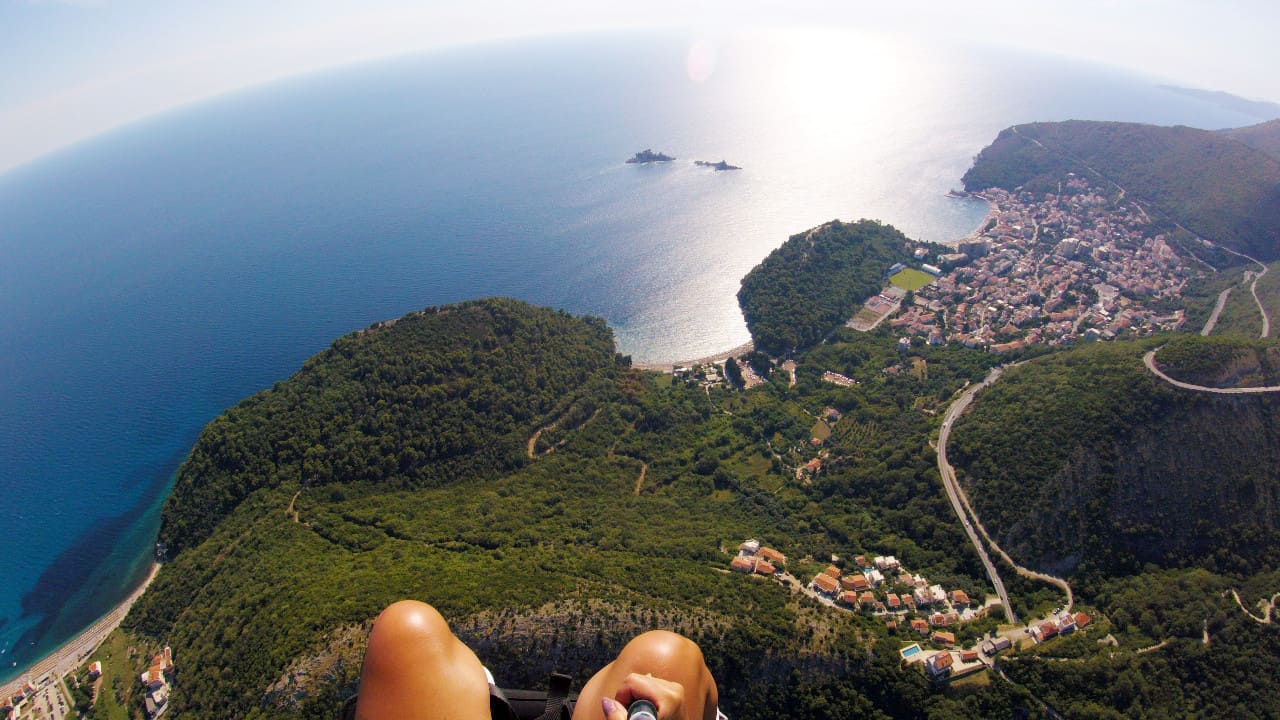 The Ideal Setting for Paragliding
Petrovac's unique geography, combining mountainous terrain with a serene coastline, creates perfect conditions for paragliding. The warm climate further enhances the experience, allowing for lengthy, comfortable flights.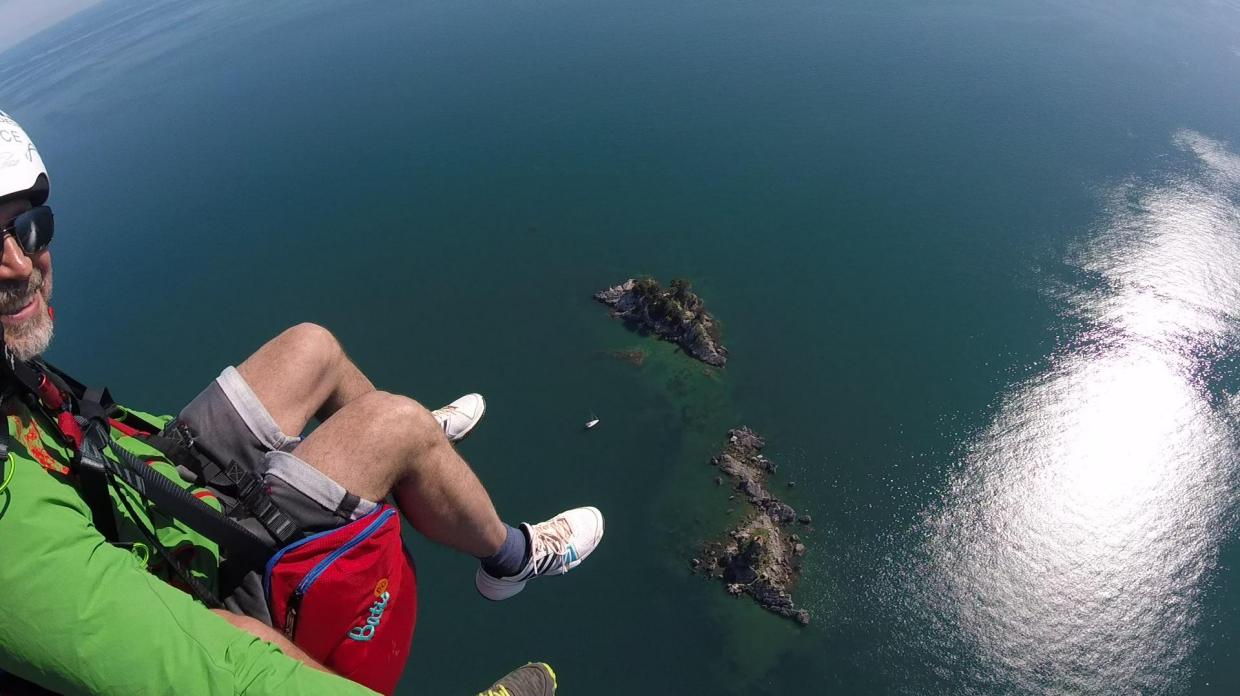 Petrovac: A Paragliding Haven
Not only is Petrovac an excellent paragliding spot, but it also boasts striking architecture. From above, the town, nestled in a horseshoe-shaped bay, offers a stunning view. The vistas of Lucica and Buljarica beaches, the vibrant blue sea, and the quaint islands of Katich and Holy Week are a visual feast.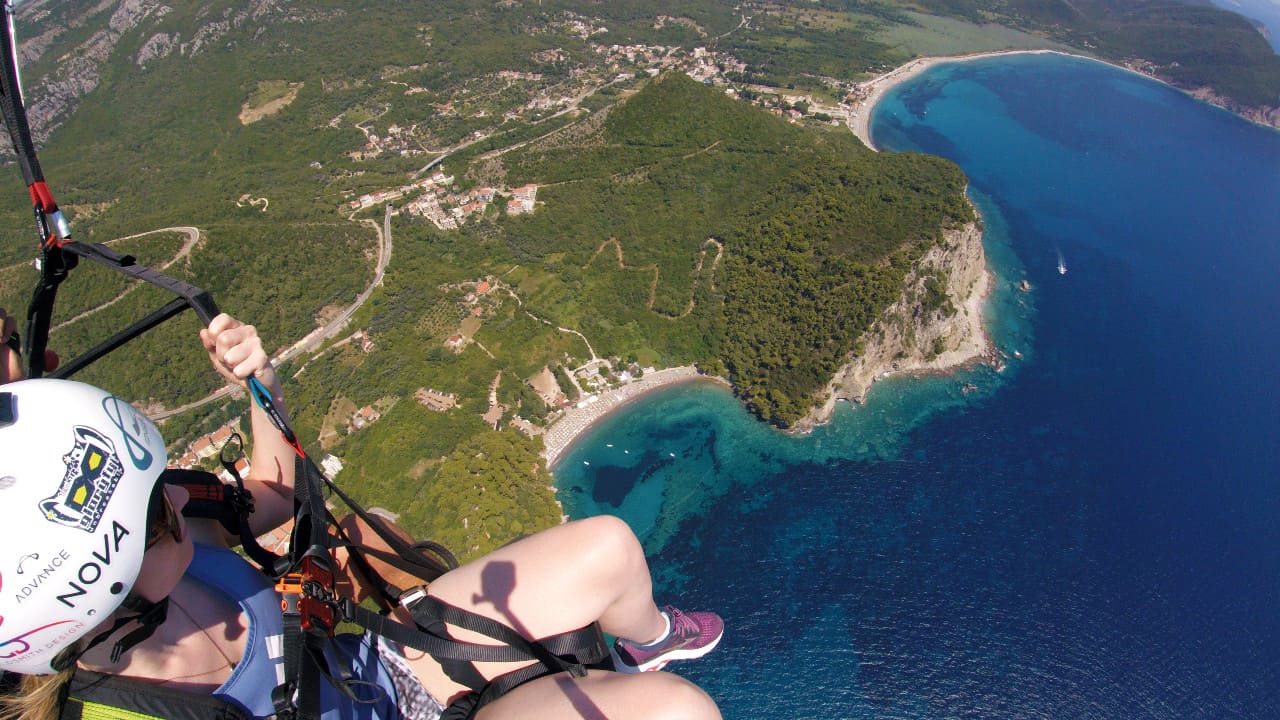 Launch Site and Accessibility
The paragliding launch site, situated 700 meters above sea level in the mountains, is a mere 15-minute drive from Petrovac, offering expansive views. Even if you're staying in another Montenegrin resort, reaching Petrovac is hassle-free. We provide transportation to the launch site from the city or the Petrovac bus station.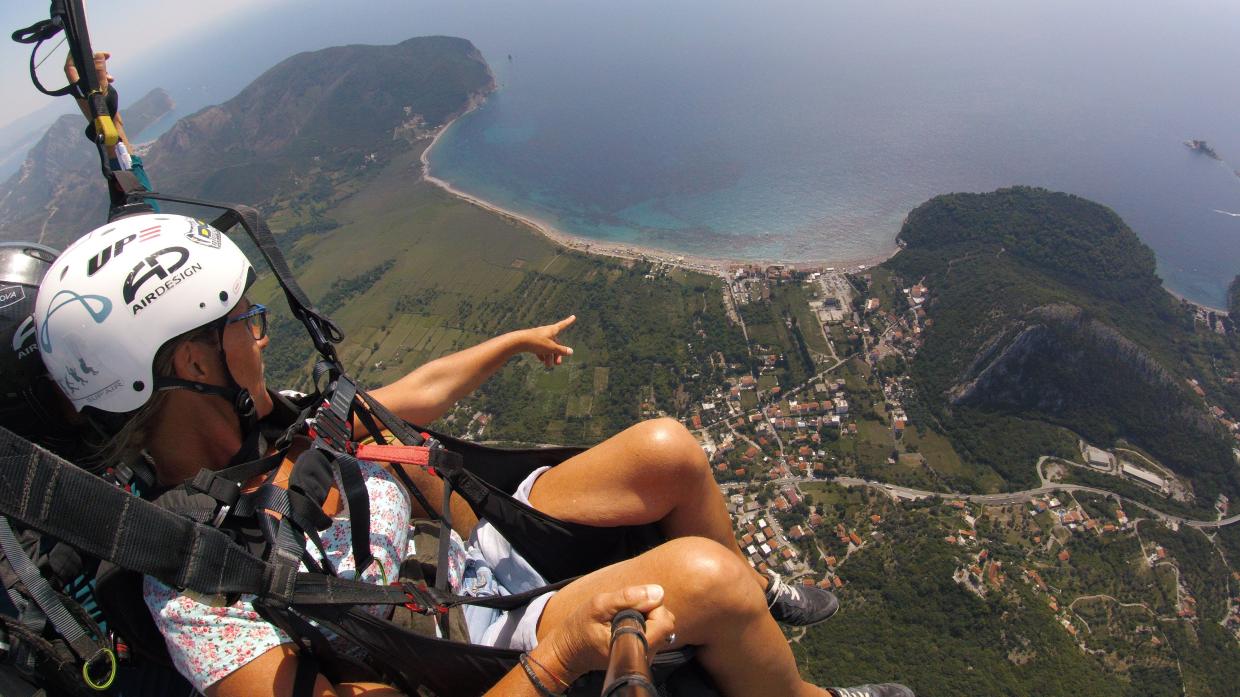 Safety and Experience
Our licensed instructors, with years of professional experience, ensure a safe and comfortable paragliding journey. Weather conditions are carefully considered to guarantee a pleasant flight and smooth landing on Buljarica Beach.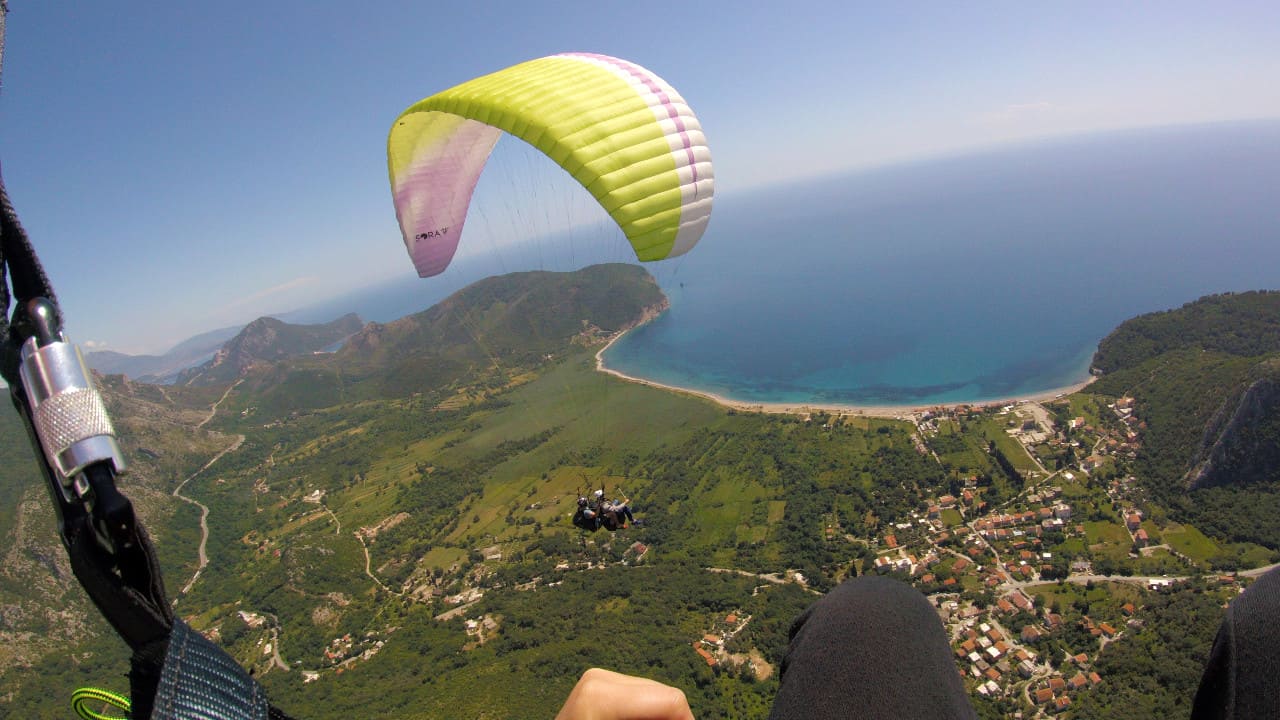 Family-Friendly Adventure
We welcome adventurers of all ages, including children from three years old, using specialized equipment for younger flyers.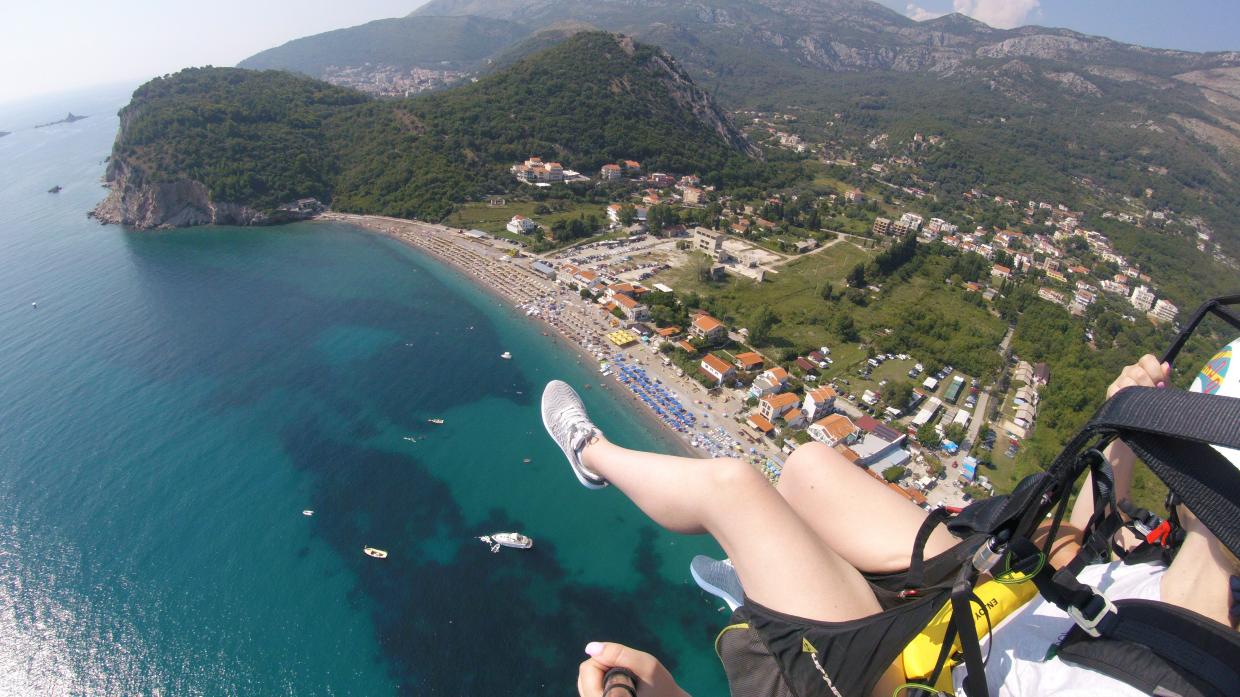 Embark on this unique opportunity to enhance your Montenegrin holiday with an eco-paragliding adventure in Petrovac!
---
The duration of the tandem paragliding demonstration is up to 25 minutes depending on weather conditions and the type of flight. The duration of the entire event is 60 minutes.
The prices
The participation fee with a discount.

The transfer from the pick-up point and back is included.
HD video service, download link included.
Video with you (including SDcard) - 10€
Video360 service - 15€
Special video editing - 30€
Embark on an Eco-Friendly Adventure: Easy Booking for Paragliding in Petrovac
Discover the thrill of flying with our eco-paragliding adventures in Petrovac. Seamlessly book your journey and soar over breathtaking landscapes, all while embracing an eco-conscious approach.