Of all the types of outdoor activities, paragliding is considered to be the most exciting entertainment in Montenegro.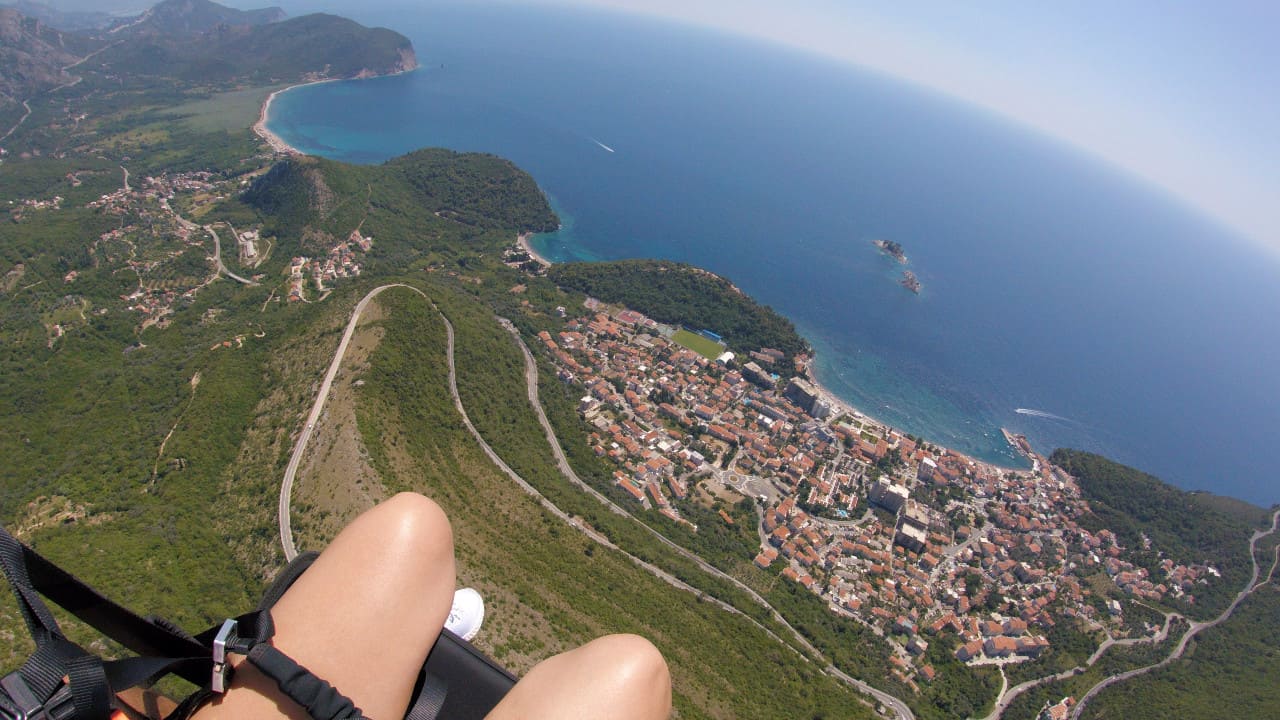 Flying in tandem with an instructor on an ultralight non-powered aircraft will be a great opportunity to enjoy the picturesque expenses and get a lot of pleasant experiences. The advantage of paragliding is that this type of entertainment, despite all the extremeness, is suitable even for beginners. The main thing is to find a good instructor who will fly with you and carefully monitor your safety.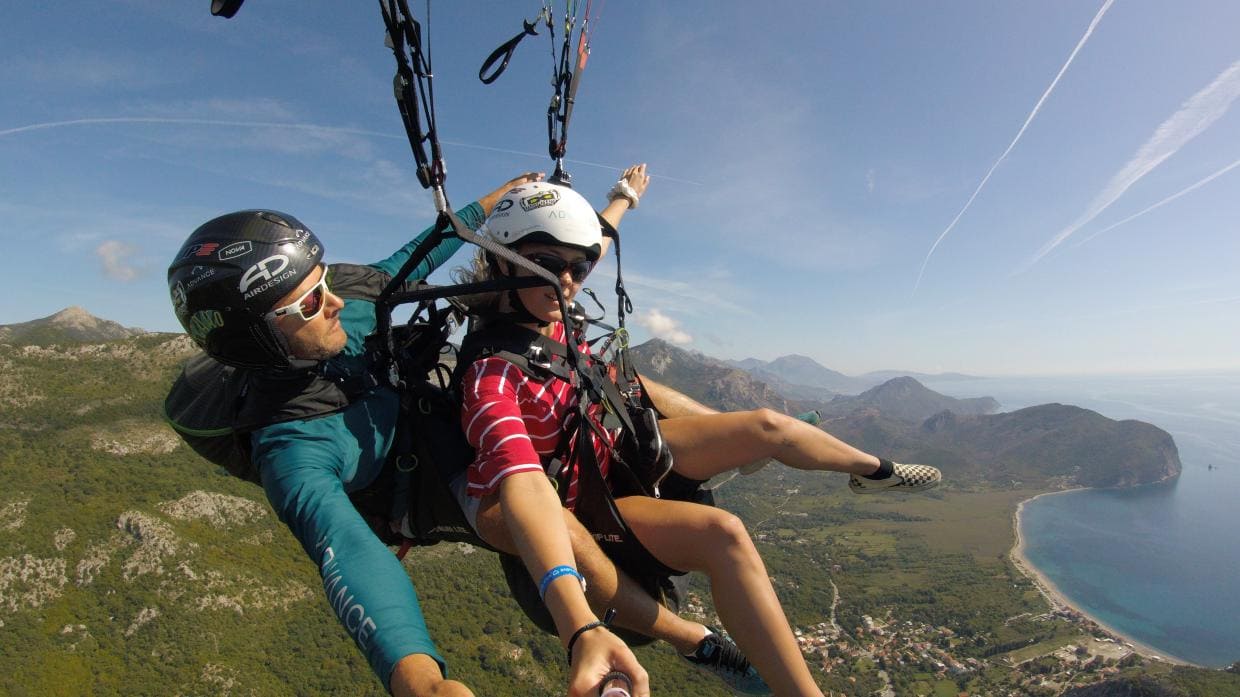 We invite you to take part in eco-paragliding in tandem with our instructor in the city of Petrovac and get a charge of unforgettable emotions.
Petrovac aerial view
Petrovac is only a couple of tens of kilometers from Budva and is part of the Budva Riviera - a large resort area, occupying a long strip of the Adriatic coast.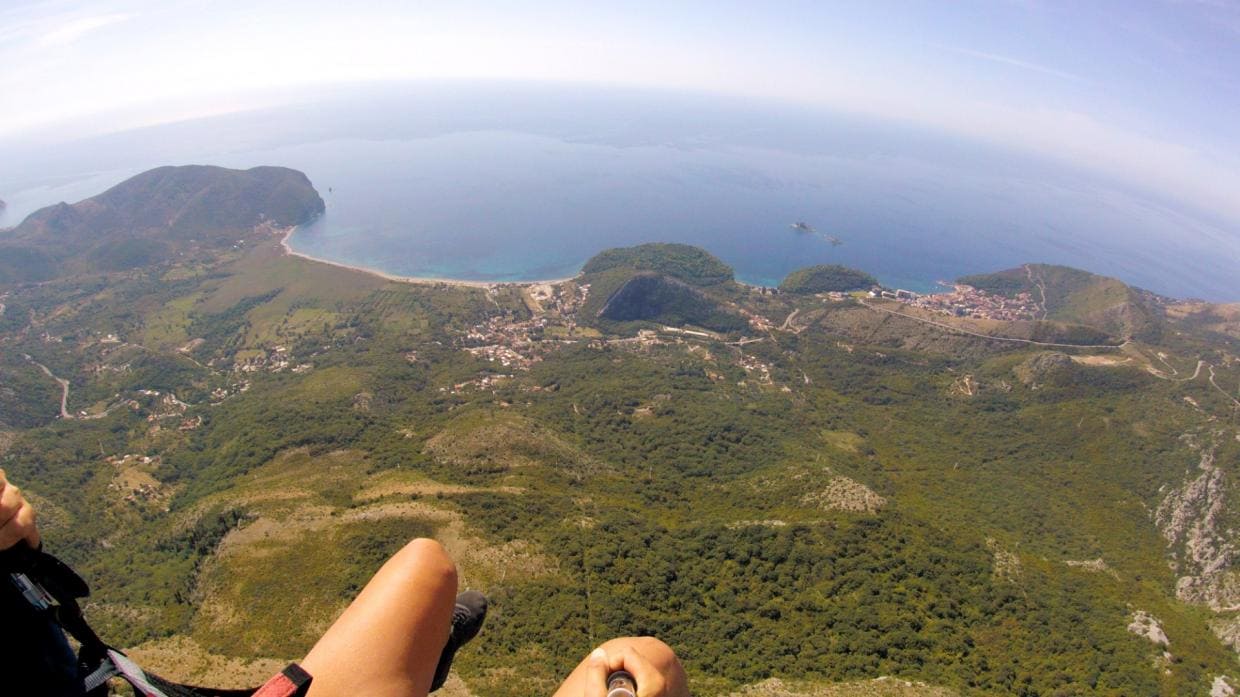 The local nature is the best suited for paragliding. The successful location of the mountains and the sea coast, combined with a warm climate - all this contributes to paragliding and opens up a lot of opportunities for long comfortable flights.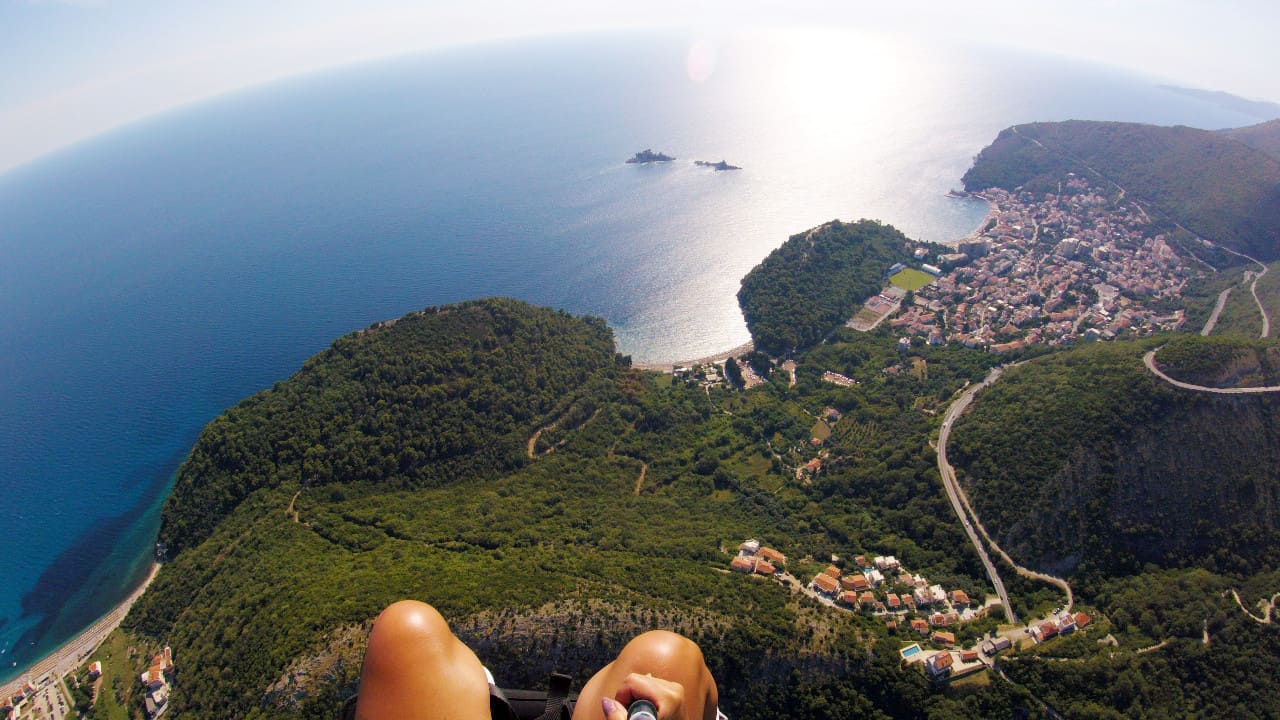 Petrovac is without a doubt one of the best places for paragliding in Montenegro!
Petrovac is a beautiful old town with interesting architecture, which looks especially impressive when viewed from above. The city is located in a quiet bay whose natural outlines resemble a horseshoe.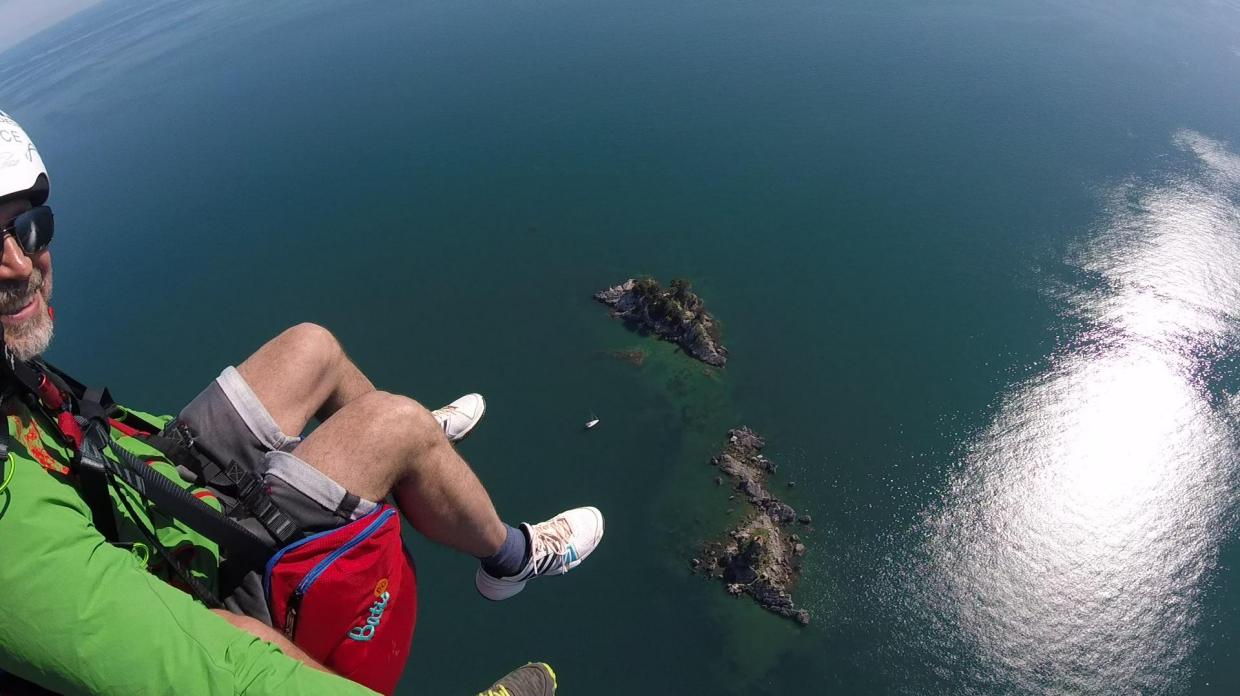 Rising into the sky your eyes can enjoy a magnificent view of the bright yellow sandy beaches of Lucica and Buljarica, the clear azure of coastal waters, and two small islands - Katich and Holy Week Island. Mountainous terrain with an angular coastline cut by cliffs - these truly fabulous landscapes are breathtaking and make your heart beat faster with admiration.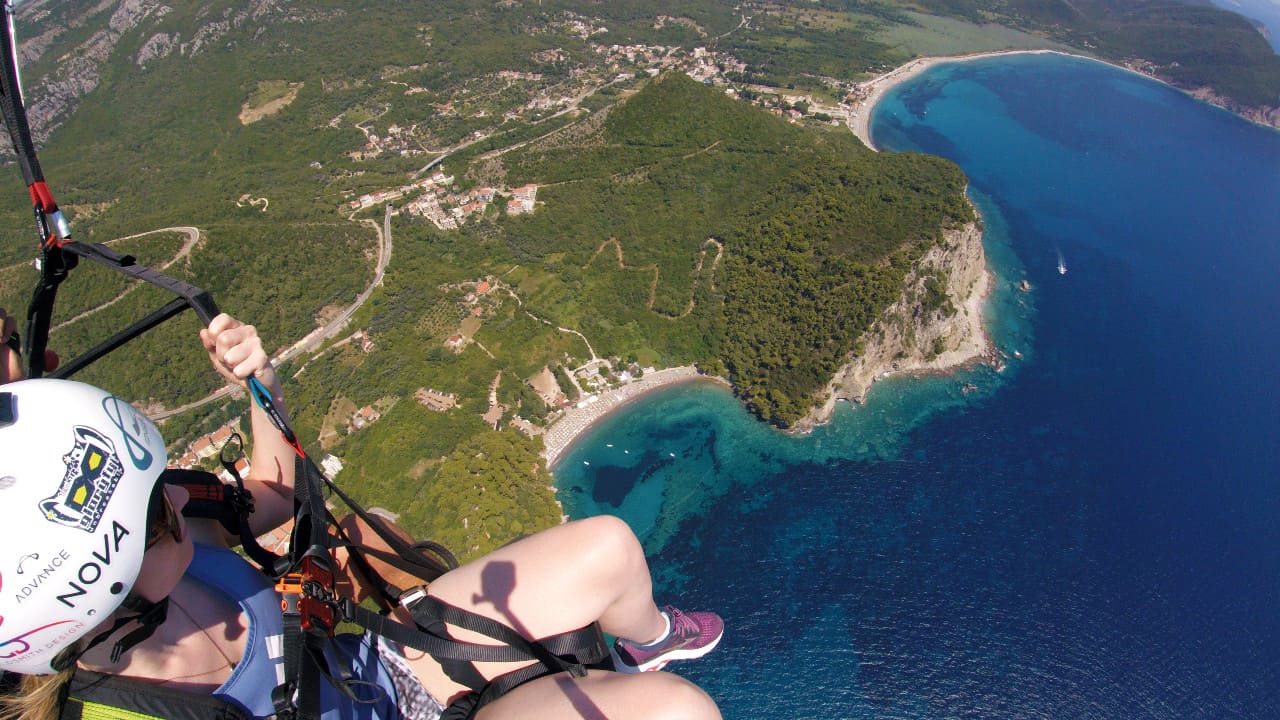 Paragliding with an instructor in Petrovac
The launch site for paragliding in Petrovac is located in the mountains, a 15-minute drive from the city. The place is located 700 meters above sea level, and it offers excellent views of the surrounding expanses.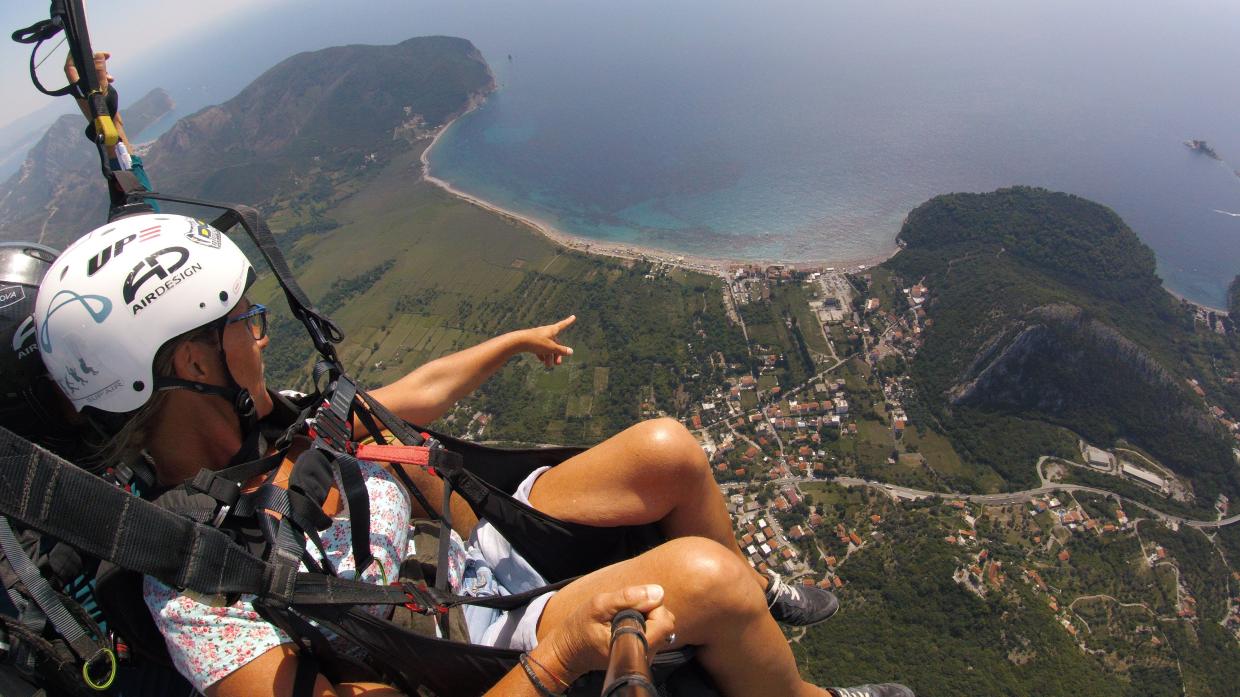 Even if you are planning a vacation in another nearby resort town of Montenegro, getting to Petrovac will not be difficult. On the appointed day we will pick you up in the city or at the bus station of Petrovac and bring you to the place where the flight starts.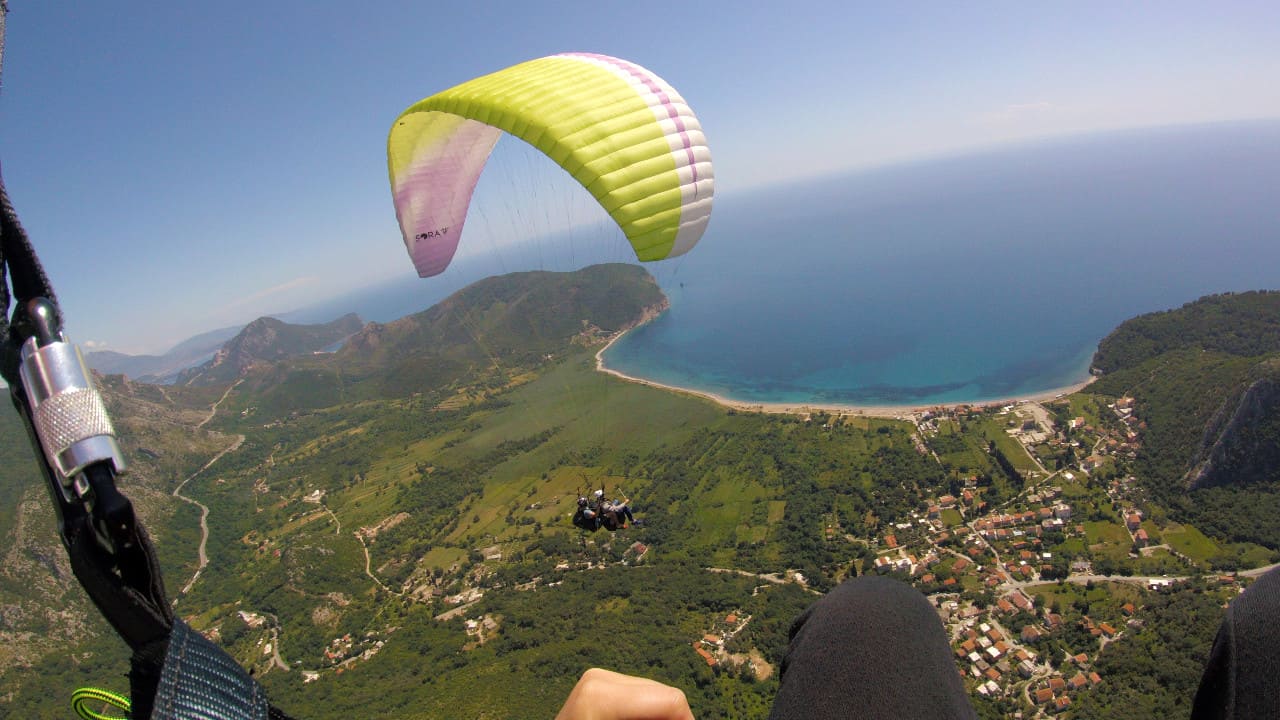 For safety reasons, weather conditions must be taken into account - the absence of precipitation and strong gusts of wind. Together with the instructor, you will make a flight during which you can capture your emotions on video or take a photo for memory. A smooth and soft landing takes place on the coast of the beach of Buljarica.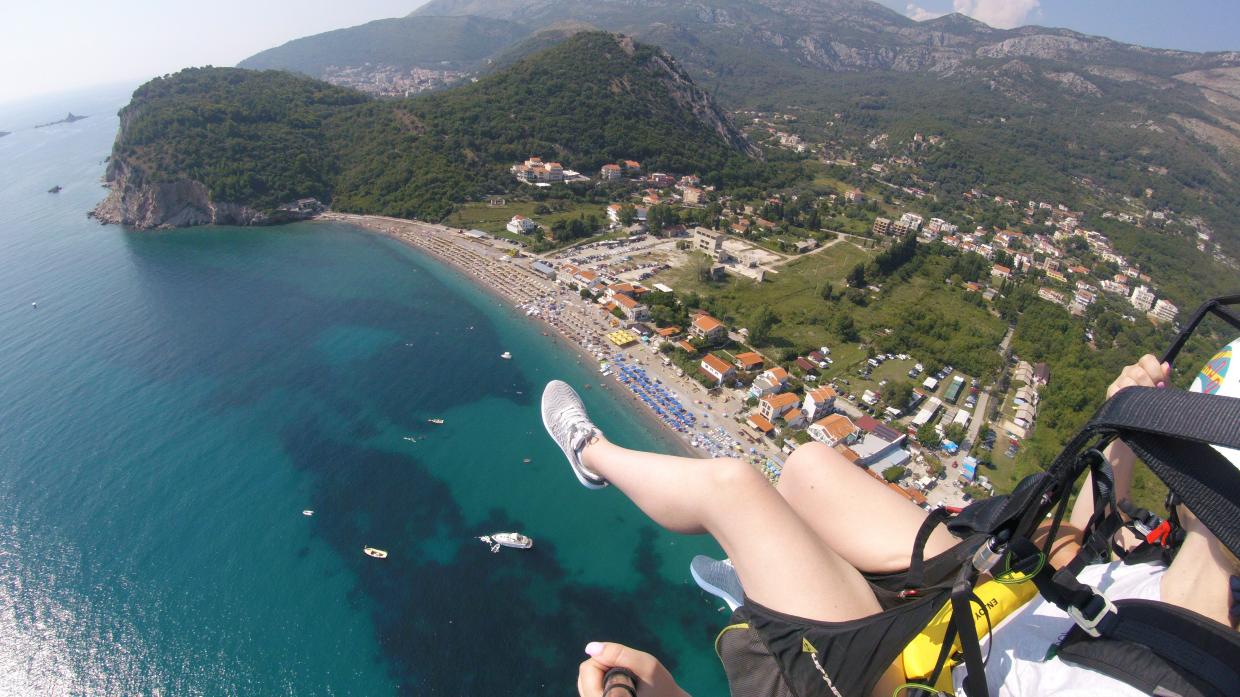 Our licensed instructors have been professionally engaged in paragliding for many years, they know all the nuances of paragliding control and have considerable experience in joint flights. With our company paragliding is comfortable and safe. All your worries about the unknown will disappear as soon as you take off the ground.
Kids friendly
Even children are allowed to fly with an instructor; special children's equipment allows them to fly with children from three years old.
Take a unique chance to diversify your vacation in Montenegro with an unforgettable adventure!
---
The duration of the tandem paragliding demonstration is up to 25 minutes depending on weather conditions and the type of flight.
The duration of the entire event is 60 minutes.
Easy booking
The participation fee is:
standard - 95€
big air adventure - 125€
The transfer from the pick-up point and back is included.
HD video service, download link included.
Video with you (including SDcard) - 10€
Video360 service - 15€
Special video editing - 30€