NOVA's 30 year anniversary special edition PRION 4
In 2019, NOVA will celebrate its 30th anniversary with a variety of different campaigns. The first will be the limited special edition of the PRION 4. As well as the four standard colours, we will release it in NINE groovy custom colours - at no extra charge.
Colour the sky – NOVA is releasing the PRION 4 in nine cool custom colours (in addition to the four standard colours).
Everyone can find their favourite combination. The PRION 4 is one of the "modern" EN/LTF A paragliders that combine the highest demands for passive safety and tons of flying fun. This means that it makes learning to fly as easy as possible - but it is far more than just a training wing. Thanks to its convincing glide performance and its precise and agile handling, it offers a lot of enjoyment long after completing your training.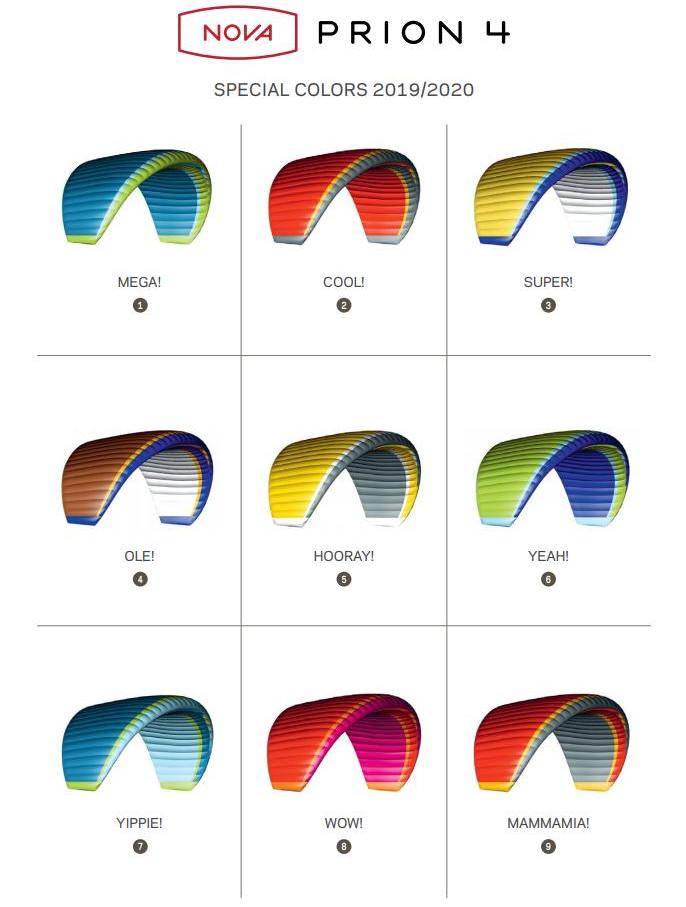 A summary of the advantages of the PRION 4:
– The simplest launch and landing characteristics
– High degree of roll damping
– Agile and precise handling
– Performance - absolutely suitable for cross-country
– Relatively light-weight (perfect for the training hill)
– Durable: for many hours of instructional use
– Uncomplicated pre-flight preparation: few, sheathed lines
– Helps to avoid mistakes: colour-coded and labelled risers
for right and left, adjustable brake handles with double
right/left labels
– Centre markings
– Wide weight-range from 55 kg to 130 kg
Orders
From today – in all colours
Choice of rucksack or CITO fast packing bag.
Colours Standard:
Blue, Gold, Melon, Green
30 Year Anniversary Special Edition (at no extra cost and definetely "limited"):
Mega! Cool! Super! Olé! Hooray! Yeah! Yippie! Wow! Mamma Mia! Other custom colours: available at extra cost
Delivery Immediately
Tip With the VENTUS, NOVA offers the perfect harness and with the PENTAGON the perfect rescue parachute for the PRION 4.
Please note: the colour combinations of the special edition are NOT all manufactured using the same cloth as the standard colours.
But ALL combinations are DHV certified.
Are you interested in a large poster showing all the possible combinations which you can prominently display in your school? Let us know.
We wish you happy landings!
Sissi & the NOVA team