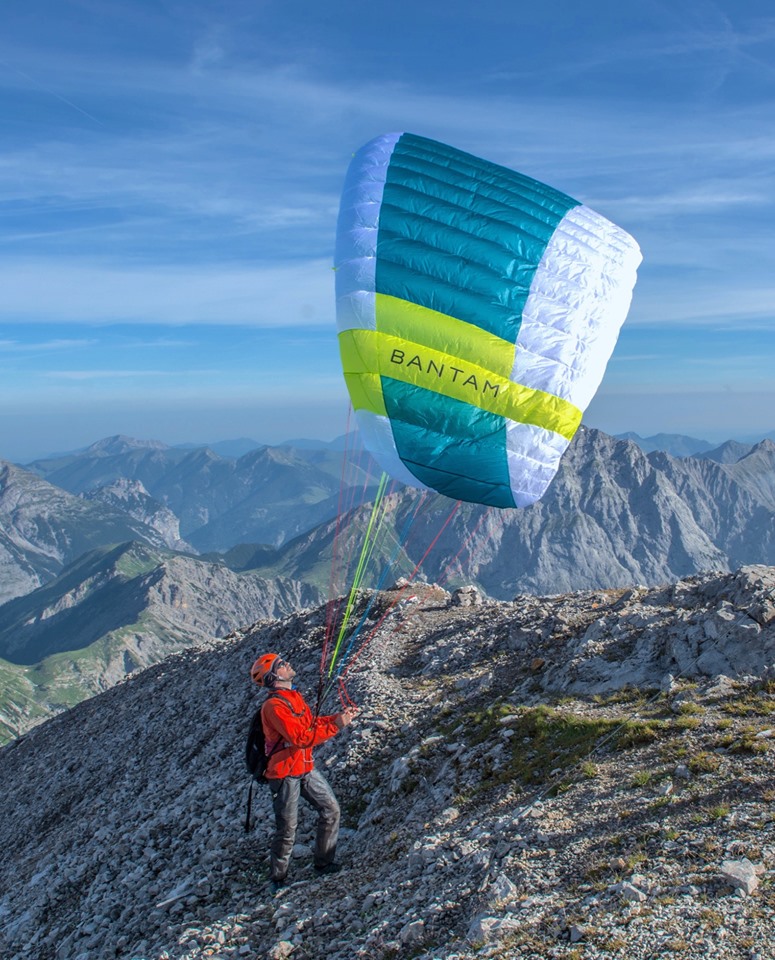 Bantam new mini-wing
The BANTAM. This full throttle ultra-light miniwing weighs only 1.65 kilos in size 12.
This makes it the lightest certified non-single-surface wing (7/19). We are confident that some of this year's Dolomitenmann" race participants will fly the BANTAM. Certification of the glider in two further sizes (10 and 14) is planned in the near future.
Concept and positioning
The BANTAM is an extremely small volume, super-light and fast miniwing - especially for fans of sports competitions like the "Dolomitenmann" and "Rise & Fall". Para-moutaineers who love speed and a dynamic wing, also benefit from the incredibly low weight of the BANTAM, which makes the ascent easy (just like the descent if the weather changes). Another benefit: due to its excellent performance, you can glide really far. The BANTAM in size 12 is suitable for experienced pilots who have already flown with heavily loaded gliders.
Size 14, which we are currently working on, will probably be much "tamer" if flown under 80 kg all-up weight.
Features for extra speed
Designed as a three-liner with 33 cells, the BANTAM was weight-optimised where possible without neglecting any of the technical details. It has extra small mini-ribs, vector tape in the upper sail, short lines to lay out well even on the smallest launch site and a high wing-loading.
The focus in terms of brake geometry was on precise handling and optimal flare behaviour. This of course helps during landing, but also during take off, because with some brake the glider generates a lot of lift and takes off even at low speed. And once in the air, it's full speed ahead.
The speed range is large and the speed increase impressive!
Size 12 is already certified
The BANTAM will probably soon be available in three sizes (10, 12 and 14). Size 12 has already been successfully certified as EN D.
Features and details at a glance
- Mini-Ribs for more performance
- New Zig-Zag 3D-Shaping for an even more aerodynamically optimised leading edge
- Lightweight materials and design: the light weight of the BANTAM does NOT result from simply "omitting" features, but from the consistent use of the lightest materials and an intelligent design.
- Innovative Upper surface vector tape along the trailing edge for better profile shape and improved handling.
- Sheathed lines (except the gallery lines)
- Weight-optimised cloth
- Holding pins for take off on very steep and slippery terrain - e.g. on snow, are included as standard
Weight-ranges
- Size 10 (certification pending): 65 – 85 kg take off weight
- Size 12 (certification completed): 65 – 90 kg take off weight
- Size 14 (certification pending): take off weight expected 55 – 100 kg
Safety
The classification EN/LTF D suggests that the BANTAM is a glider with high demands on the pilot. This is especially true for the sizes 10 (certification pending) and 12, which, especially flown in the upper end of the weight range, requires a great deal of flying ability to master such a dynamic glider.
The safety in high-alpine use is enhanced by properly laying out the wing (helped through the holding pins) and the small space requirement due to the short, colour–coded and sheathed lines. And also: speed, good glide and the safe landing behaviour of the BANTAM even in tail wind or turbulent conditions.