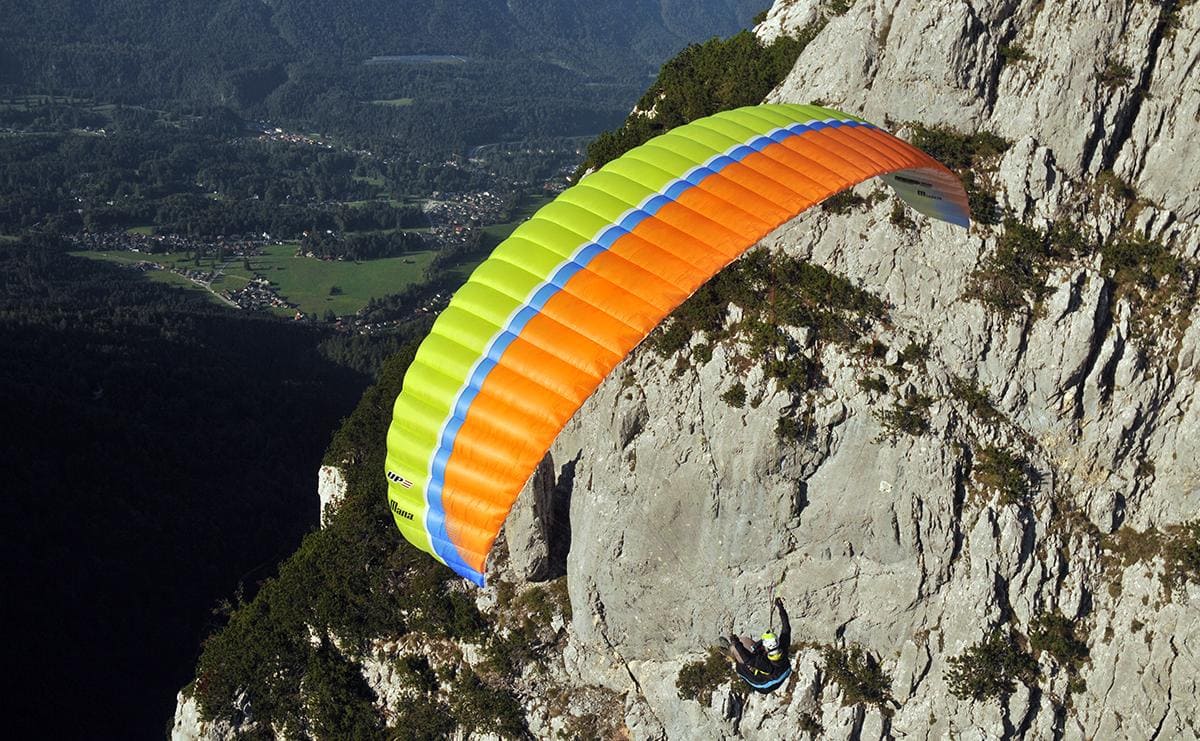 Paraglider UP Mana for sale
Our new Mana has an unusually light weight, exceptional versatility and a complaisant character. This wing is perfect for flying in thermal air currents, for adventure in the mountains, as well as for soaring in dynamics.
Amazing versatility, small packaged size and light weight make Mana the best choice for any trip.
Colorus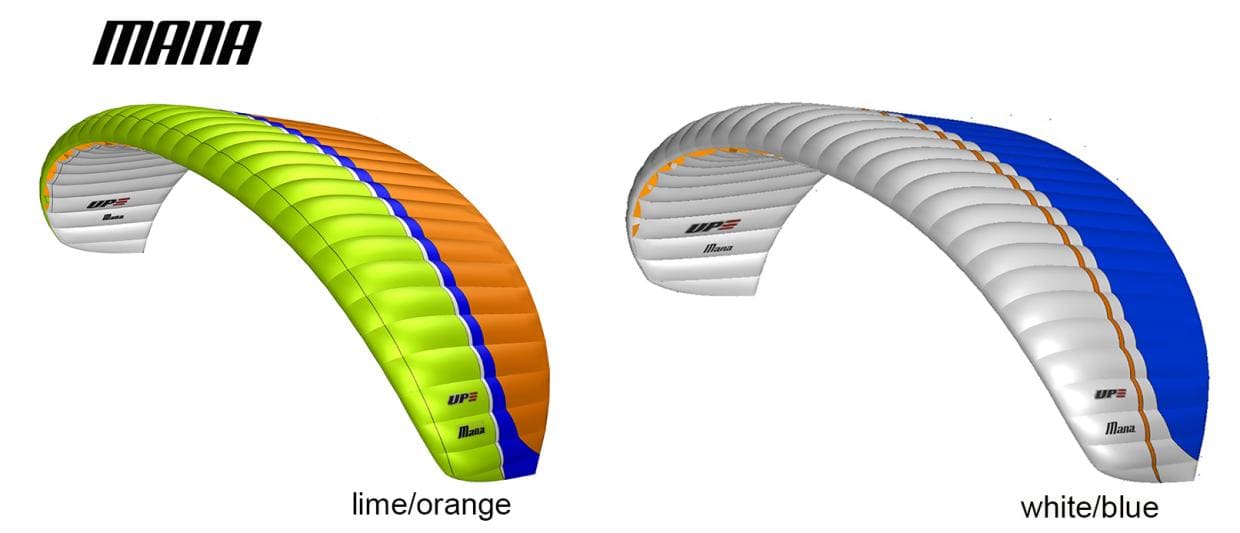 Benefits
This lightweight wing is characterized by exceptionally simple behavior during launch, and in flight provides an amazingly high level of passive safety. In addition, it weighs very little and takes up a minimum of space in a packaged form.
Thanks to the new generation aerodynamic profile (NGA), mini-stiffness, optimized air intake shape (AIP) and three-dimensional profiling technology, the wing flow is improved, which increases its resistance to folding and gives an increase in flight performance.
Reducing the number of slings simplifies the preflight inspection of the sling system and helps to reduce drag, positively affecting the aerodynamic quality of the apparatus.
5 sizes ranging from 50 to 125 kilograms ensure the ideal distribution of weight forks for this model.
Arrow-shaped wingtips reduce drag, providing an increase in aerodynamic quality of the paraglider.
Trailing edge selective tensioning system: trailing edge tension has a positive effect on handling and safety, but helps to reduce aerodynamic quality.
Leading edge stabilization system (FSS) Nylon stiffnesses at the leading edge - ideal leading edge geometry throughout the entire life cycle.
Five different sizes (18, 21, 23, 25, 27), extended weight forks are ideal for Mana to tailor exactly your personal preferences.

On our chart, you can check which wing size is best for your take-off weight and your preferred use.
Explanation
Comfortable flights: Maximum safety, an ideal choice for novice pilots: Mana's benefits are already evident at the start. Mana easily goes into flight position and stabilizes in it, not trying to go forward. Take off on this paraglider is fast and very pleasant! In flight, the device behaves calmly, providing the pilot with a sense of comfort and a high level of passive safety.
Mountain flights
The minimum packaged volume combined with low weight and optional lightweight free ends make Mana the ideal companion for every mountain lover.

In relation to this sphere, Mana strikes with its exceptionally clear control and calm behavior in flight, combined with its outstanding ability to gain altitude in thermals. In addition, Mana will allow you to easily start from limited sites.

Our lightweight (385g) Summiteer backpack, which is included in the package, perfectly complements this lightweight wing.
Features
The ability to choose both standard and lightweight free ends.

The free ends of both types are certified and equipped with an accelerator. The difference in weight between standard and lightweight free ends is 100 grams.

Scope of delivery: Lightweight Summiteer backpack, size S, packing bag, size S, strap for tie, gift from UP, UP sticker.
Technical data
SIZE
18
21
23
25
27
Surface area flat (m2)
17,9
21,0
23,3
25,5
27,6
Surface area projected (m2)
15,6
18,3
20,3
22,2
24,0
Flat span (m)
9,29,
10,07
10,6
11,1
11,5
Projected span (m)
7,26,
7,87
8,30
8,68
9,02
Flat aspect ratio
4,8,
4,8
4,8
4,8
4,8
Projected aspect ratio
3,39
3,39
3,39
3,39
3,39
Chambers/cells
34
34
34
34
34
Total line length incl. Brake (m)
259
281
296
312
321
Total # of lines incl. Brake
154
154
154
154
154
Line dimensions (mm)
0,7 / 0, 8 / 1,0 / 1,3 / 1,6 / 2,1
Glider weight (kg)
2,3
2,7
2,9
3,1
3,4
Category LTF/EN
C
A (B & C)
A (B)
A
A (B)
Takeoff weight (kg) EN-A
-
50-70
60-80
70-95
80-110
Takeoff weight (kg) EN-B
-
71-100
81-115
-
111-125
Takeoff weight (kg) EN-C
63-95
101-110
-
-
-