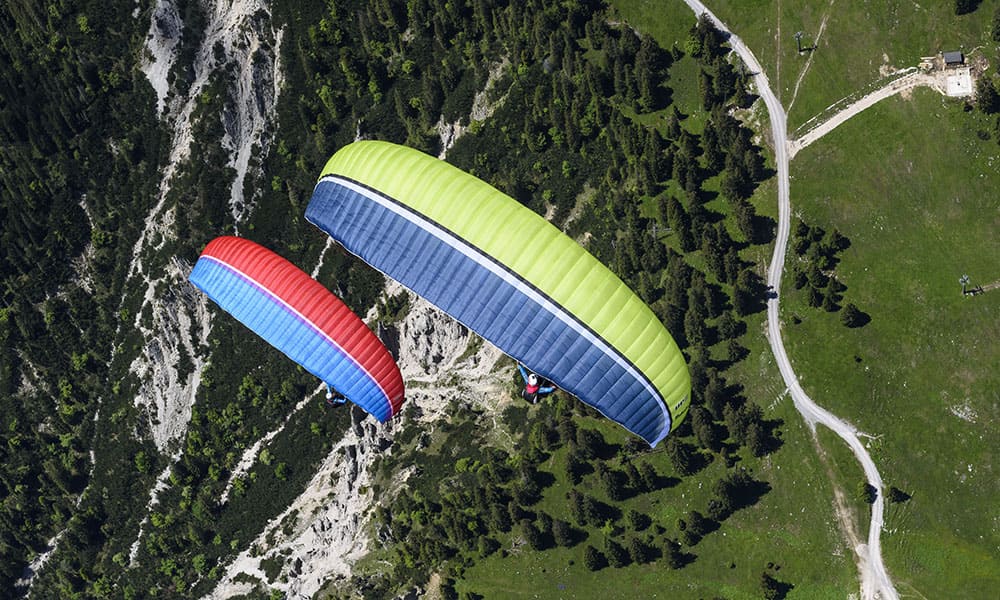 Paraglider UP Makalu 4 for sale
The new Makalu 4 combines all the positive qualities of the EN B class that you can only dream of - it is a very stable wing with clear controls.
You will enjoy the flight on this wing. Despite the fact that the wing has high safety, while the performance of the wing is so good that your ambitious goals will be achieved easily.
Literally, a wing is created to explore. You will discover the meaning of free flight.
Makalu 4 is ideal for pilots who have already completed the initial training and want to learn how to fly routes, as well as for confidently flying pilots who value safety.
Colors

Benefits
Simplified wing control, higher LTX compared to Makalu 3, but at the same time as safe and easy to control;
3-row design of the free ends contributes to easier unraveling of the lines, minimum resistance = higher performance characteristics;
Thanks to the mini-ribs in the trailing edge, the wing behaves more stably, keeping LTX in turbulent air;
The arrow-shaped wingtip improves controllability and stall characteristics, as on higher class wings;
Improved construction of free ends with RonstanTM rollers for efficient use of the accelerator, increased maximum speed;
(FSS) applied the second generation of the aerodynamic stabilization system of the wing, which reduces drag while maintaining the shape of the leading edge. Thanks to the FSS, the wing has an even lighter weight and is not demanding on packaging.
The brake tension system (BTS) allows you to more clearly feel the trailing edge of the wing;
3D panel shaping - the wing has a smoother profile compared to its predecessors, which increases the LTX;
UP's unique shape of air intakes reduces drag by preventing the wing from folding in turbulent air.
>Magnetic fastening of brakes on the free ends;
Five sizes - XS, S, S / M, M and L - cover a weight range from 55 to 130 kg.
If you are relatively new to the world of free flights, this wing will allow you to explore the limits of your capabilities without causing you stress.
The UP team believes flying is a pleasure. There are many activities beyond this, but if it is not fun, then why do it? In this case, Makalu 4 is your choice!
Just as with the previous UP Makalu 3, with Makalu 4 from the very beginning you will feel like a good pilot. It is striking in its combination of passive safety and flight dynamics, so for many years you will not be interested in the flight characteristics of either your wing or other paragliders.
New Makalu 4 - for confident and long-distance flights! We achieved an increase in LTX by reducing the number of lines, by more than 1/3 in each size.
In a set: a backpack, a bag for packaging, a strap for a paraglider coupler, UP gift, UP sticker.
Technical data
SIZE
XS
S
S/M
M
L
Surface area flat (m2)
21,6
23,9
26,0
28,2
30,5
Surface area projected (m2)
18,2
20,1
21,9
23,8
25,7
Flat span (m)
10,7
11,2
11,7
12,2
12,7
Projected span (m)
8,4
8,8
9,2
9,6
9,9
Flat aspect ratio
5,3
Projected aspect ratio
3,8
Chambers/cells
46
Total line length incl. Brake (m)
245
256
261
275
286
Total # of lines incl. Brake
138
Glider weight (kg)
4,4
4,7
4,85
5,1
5,4
Category LTF/EN
B
B
B
B
B
Takeoff weight (kg)
55-75
65-85
75-95
85-110
100-130