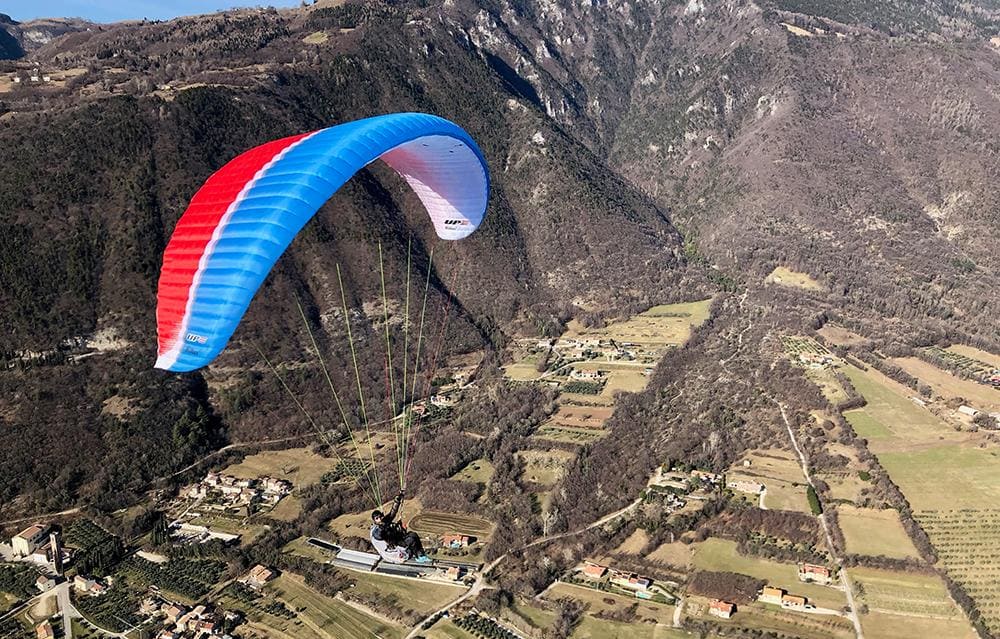 Paraglider UP Kibo 2 for sale
Introducing the new intermediate Kibo2 paraglider model, which again embodies the extremely successful balance of free flight capabilities laid down in its predecessor, Kibo.
We have equipped this wing with all the most successful technical solutions, with which the three-row design has quite decent aerodynamic quality and at the same time meets quite strict safety requirements so that the paraglider allows you to fly in pleasure. Besides the fact that we have worked on pitch stability, the control has become livelier, just enough to perfectly feel the lifting zone when processing the flow. Of course, with all the information content, the Kibo2 control system is still comfortable, like the Kibo. So this wing is suitable even for difficult weather conditions.
Colours

Benefits
Safety and simplicity in flight with an advance "high-performance" combat.
A new generation of Aerofoil (NGA) technology that maintains leading edge rigidity and promotes better entry into turbulent air.
An excellent step for pilots seeking to progress comfortably and safely.
A good glide to cross valleys not only in fair winds.
Very stable even at maximum speeds.
Clear, simple controls comparable to other UP wings of a higher level.
Ability to control C-rows.
The second generation of the Brakeline Tensioning System (BTS2) technology to improve control while reducing line wear.
The design of the wing using mini ribs.
Lightweight and efficient Ronstan block accelerator system.
Double volume technology to maintain wing shape: fewer folds - less drag.
Semilunar openings of air intakes: the most integral leading edge - a minimum of resistance.
Four sizes cover a weight range from 65 to 130 kg.
What's new
Compared to its predecessor, the Kibo paraglider, the Kibo2 is calmer in flight sensations, and control has become, perhaps, more direct. The passive safety of the wing has increased significantly thanks to a slightly softer, more pliable material, and this has added to the wing's responsiveness. Thus, now you can instantly feel the boundary of the heat flow, and you will be pleasantly surprised by the ease with which it can be centered. In addition, we used the accelerator system that was designed for the Trango X-Race. Now you will smile more often when flying to an open range! Improving aerodynamic quality was made possible thanks to the know-how of the most technologically advanced developments - the flagships UP Meru and Guru. We are talking primarily about self-regulation of the shape of the wing in flight 3D-shaping (the fabric "feeds" in response to changes in pressure on the external and internal surfaces in unstable air, and turbulence undergoes softer) and perfectly sharpened streamlined shape. Finally, we added a new brake mounting solution that our pilots have long been waiting for - Snaplock. This is a combination of a magnet with a lock, now fastening the brakes does not cause any problems. Snaplock is more reliable than a magnet, which can wear out, and it will not fail due to a broken hooker.
For whom did we create Kibo2
Like the Kibo, the Kibo2 paraglider is in the middle of EN B. For those who already fly the Kibo, this wing will be to their taste.
This is a paraglider with a greater "flight": it is gaining altitude well and has a glide that is excellent for its class - so it will also appeal to those pilots who would like to tear themselves away from their "home slope" more often and gain experience of long route flights, although home slope "it will be an excellent wing for training, and flying in pleasure. Kibo2 is really multifunctional! So Kibo2 is suitable for those who want to go one step higher from the A-class, as well as experienced pilots who often fly a lot and strive for safety and progress. Kibo2 offers a high level of comfort and reliability with the right measure of quality.
What can I add about Kibo2 in flight
Start: a start on Kibo2, like on its predecessor, is uncomplicated in almost any situation. The wing goes upright symmetrically and remains above the head until the pilot gives him an impulse to move.
In flight
Kibo2 has a pretty lively and straightforward control without too much hassle. It is a little easier to handle than the previous model, but only the very drop: pleasure and a keen interest in flying - that's why its complicated design with moderate aerodynamic quality was developed.
Technical detailes
SIZE
S
S/M
M
L
Surface area flat
21,9
24,4
26,4
28,1
Surface area projected
18,6
20,7
22,5
23,9
Flat span
11,2
11,8
12,3
12,7
Projected span
8,9
9,4
9,8
10,1
Flat aspect ratio
5,7
Projected aspect ratio
4,3
Number of chambers
53
Total line length incl. brake
253
269
280
290
Total # of lines incl. brake
180
Glider weight
4,2
4,5
4,8
5,1
Certification category EN/LTF
B
B
B
B
Total takeoff weight
65-85
75-95
85-110
100-130